Minimize costs & maximize value with the first automated cost, performance, and security optimizer for the Snowflake® data cloud
Snoptimizer® cost optimization evaluates ongoing queries and settings relating to warehouses and resource monitors. It can immediately fix account setup specifications to improve cost savings.
Sample Snoptimizer® cost setting checks:
Query consumption
Storage consumption
Automatic clustering
Materialized views
Search optimization
Pipes
Cloud services
Replication
Snoptimizer provides significant cost savings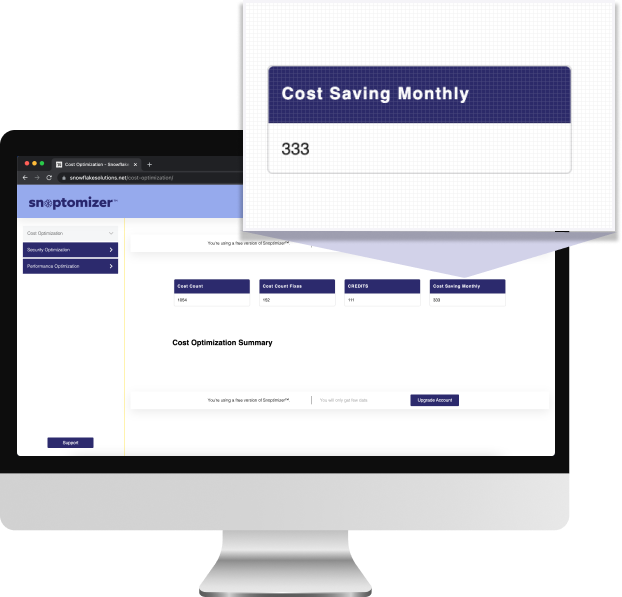 On average, we can save companies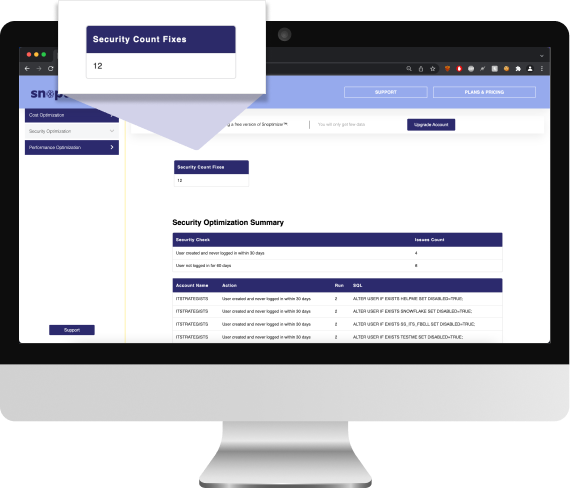 Catch security issues and misconfigurations and protect your Snowflake® investment.
Snoptimizer® security optimization routinely checks for security issues that put your Snowflake® account and data at risk.
All Snowflake® objects
Users / Roles
Network policies
And more (over 30 other tests)
We run a 38 point checklist of tests to make sure you're protecting your Snowflake® investment.
Snoptimizer® performance optimization makes queries faster. We scrutinize your logs to look for ways to provide additional cost-saving changes 24-7.
optimize spend
automate drudgery
scrutinize query profiles
scrutinize query history
receive email notifications
customized performance optimizations

search optimization
auto-clustering
materialized views